Description
WWG-DS120 Dental Lab Work Bench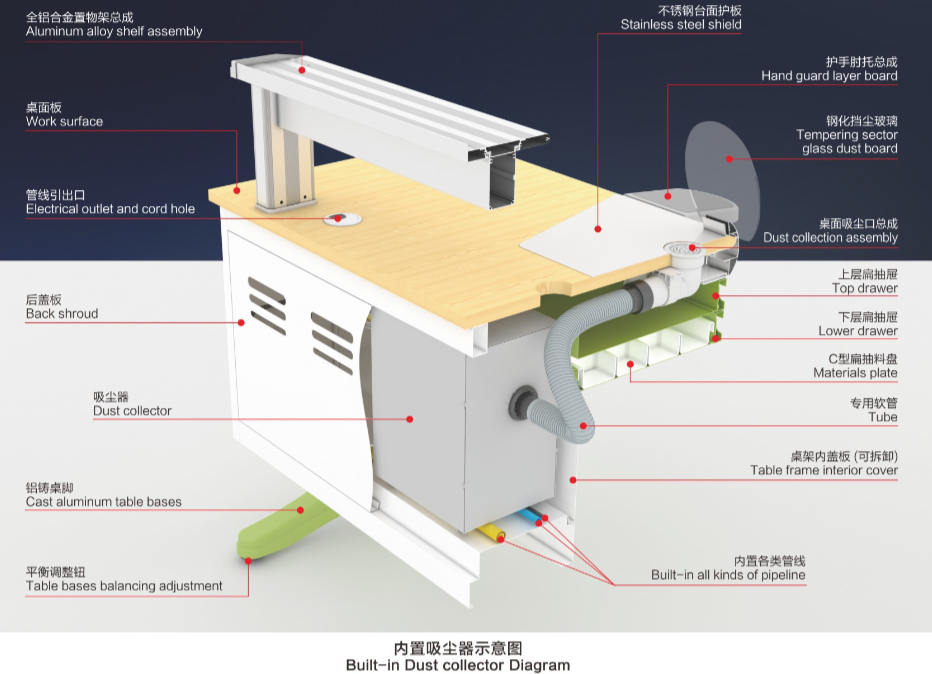 This type of Dental lab work bench widely adopts some famous dental technicians' advice both at home and abroad.
1.The main material consists of cold-rolled stamping, die-casting aluminium alloy and extrusions.
2.Surface material can be made by squeezed high-density fireproof board, or stainless steel, or man-made marble.
3.Shelves on the desk are all made by aluminium alloy, which make the selves elegant and durable.
4.The work light is combined by sun-light source and 5- inch 300-degree magnifier.
5.Elbow guard surface is covered by elastomer material which makes the elbow more comfortable.The elbow working space can be adjusted in two levels between standard (40cm) and widen (48cm).
6.Self-reset air gun is well designed with good texture.
7.The independent suction device also supports central vacuuming system which has strong power and low noise.
8.The height of this desk can be adjusted between 80cm and 85cm.   The delicate appearance air gun can reset automatic.
9.The workstation configures low noise and strong suction power dust exhaust apparatus, also it support central dust collection system concentrated dust collection.
10.Embedded integrated electrical control box is easy to fix and replace.
11.This control box can control all of the electrical circuit, at the same time, based on this control box and from the digital window; workers can check the Vacuum dust collection system of the motor run time.
12.The standard configuration USB interface can support 2A12V weak power.
13.The suction nozzle assembly has two accessories can choose. One is Fan toughened glass block dust board,another one is LED lamp ring(built-5 inch magnifying glass/ 5 inch flat lens)
14.The four corners can be fine-tuned according to the ground. When several desks are simultaneously used, desks can crossly linked.
15.The invisible crane span structure is 20cm high and 20cm wide between two desks.
16.All suction and exhaustion pipes, gas pipes, compressed air pipes and strong and weak power light lines can be hidden in crane span structure intensively. They can then be extended to any invisible lines in and on the desk or on the ground through preset holes.There are supplementary dust collection components which are allocated randomly. The operation desk can be cleaned just by buckling the assistant suction device on the nozzle.
A cost-performance revolution of Dental lab work bench is just around the corner.
Technical Data:
 Power Supply: 220V/110V 50/60Hz
Power Consumption: 500W
Air Volume: 175m³/h
Max. Pressure: -16kPa
Noise Level: <65dB
Dimensions: 120cm x 60cm x 80-85cm (adjustable)
Package size: 140cm x 70cm x 80cm (H W D)
Weight: 90kgs
---
Parts Included:
Desk standard:high density of fire prevention borad/Artificial marble/Stainless steel board,3 tabletop available
Sun lighting/5 inches 300 angle magnifying glass lamp×1
Aluminum alloy shelf assemblies  ×1
Rubber air gun ×1
Adjustable ancon×2
vacuum dust collcetion system×1
The suction nozzle assembly×1 (optional)
T legs can be adjusted×2
Reusable box ×5(optional)
Assistant vacuuming components×1(optional)
Hidden flume assembly×1set  (need to be revised or you can swap with vacuum dust collection system)
---
Colors: